Calibration Standard Lamps

back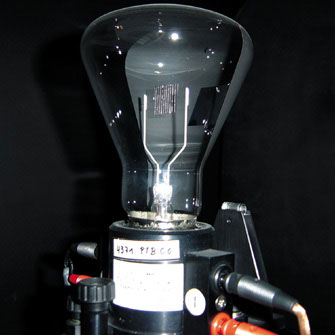 WI41/G Luminous intensity standard lamp – Reference light source for testing photometers
The main area of application for the WI41/G luminous intensity standard lamp is the calibration of photometers, tristimulus colorimeters, and retroreflectometers which are used in a photometric laboratory. They are ideal for all applications where maximum precision and stability are a top priority with minimum measurement uncertainty for the calibration artifacts used.
The WI41/G lamp provides approx. 250 cd in luminous intensity at a color temperature of 2856 kelvin (illuminant A), which is recognized as the reference color temperature for photometers. A special socket is used to provide reproducible positioning of the lamp, e.g. on an optical bench or a goniometer sample table.
Features:
Luminous intensity of approx. 250 cd at 2856 kelvin (illuminant A).
Rated voltage 31 V (maximum), rated current 6 A.
PTB calibration certificate.
Measuring uncertainty of calibration according to PTB calibration certificate approx. 0.6%.
Recommended calibration interval: 6 hours operating time or 2 years.
Luminous flux standard lamps for calibration of integrating spheres
Instrument Systems supplies very stable luminous flux standard lamps for the calibration of integrating spheres based on luminous flux. The sandblasted 50 watt halogen lamp offers very reproducible characteristics for color temperature (near to illuminant A), spectral distribution and total luminous flux.
A dedicated socket with Lemosa connector is also supplied for operation in series ITS 500 or ITS 1000 integrating spheres.
Features:
50 W halogen lamp with approx. 1012 lm luminous flux at 2991 k color temperature.
Extended relative measurement uncertainty ± 2%.
Burn-in time approx. 15 minutes, burning position vertical.
Calibration method in conformity with CIE 63-1984 (The spectroradiometric measurement of light sources) and DIN 5032-1 (for luminous flux).
Certificate from an ISO 17025 accredited laboratory.
Calibration standards for determining reflectance
These standards relate to the measurement of material characteristics using an integrating sphere for reflectance and transmittance measurement.
Two standards are supplied: a diffuse reflectance standard based on PTFE material and a mirror with specular reflectance. Both come with a 100 x 100 mm base plate so that they can be fixed to the sample port of the integrating sphere assembly.
In the automotive sector, this category includes the measurement of flat and convex rear-view mirrors in conformity with ECE R46.
Features:
Diffuse reflectance standard: PTFE material with reflectance ρ ≈ 99 % in a spectral region of 400 to 1500 nm.
Mirror standard: mirror with specular reflectance made of float glass with Al with quartz protective layer and reflectance ρ ≈ 90,74 % in a spectral region of 400 to 780 nm.
Test report for reflectance standard.
Optional PTB certificate for spectral reflectance at 8° and 25° angles of incidence with a measurement uncertainty of approx. 0.5%.
Dpro Scientific Sdn. Bhd.
B-08-03, Dataran 32,
No. 2 Jalan 19/1, 46300,
Petaling Jaya, Selangor,
Malaysia.
Dpro Scientific Pte. Ltd.
80, Genting Lane,
#09-10 Ruby Industrial Complex,
349565 Singapore.