Interfacial Shear Strength (IFSS) Module
For LEX820
back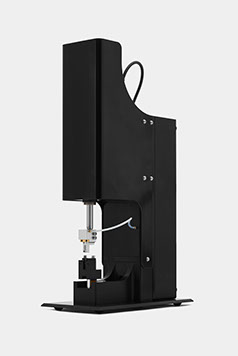 Interfacial Shear Strength (IFSS) Module for LEX820
Feature / Specification:
To measure the debonding force of micro-droplets on a single filaments and fibres.
IFSS is an interchangeable module for the LEX820 High Resolution Extensometer Tester.
Extension range: 3 - 53mm
Speed range: 0.01 to 2.6mm/s
Force range: 0 to 2.5N or 0 to 20N
Force resolution: 0.05mN (2.5N) or 0.5mN (20N)
Displacement resolution: 1μm
Displacement accuracy: 50μm
Load cell linearity: ±0.1% full scale
Sample size: 4 to 30mm
Computerized system with UvWin software on Windows XP, 7 and 10.
Application:
This IFSS measurement is based on the universally recognized micro-bond method to evaluate the interfacial properties of a variety of matrix resins and epoxies on fibers and filaments commonly used in composite materials. The IFSS method can be applied to various fibre and filament types: glass, carbon, ceramic, aramid, basalt or natural fibres.
Dpro Scientific Sdn. Bhd.
B-08-03, Dataran 32,
No. 2 Jalan 19/1, 46300,
Petaling Jaya, Selangor,
Malaysia.
Dpro Scientific Pte. Ltd.
35, Tannery Road,
#02-07 Ruby Industrial Complex,
347740 Singapore.